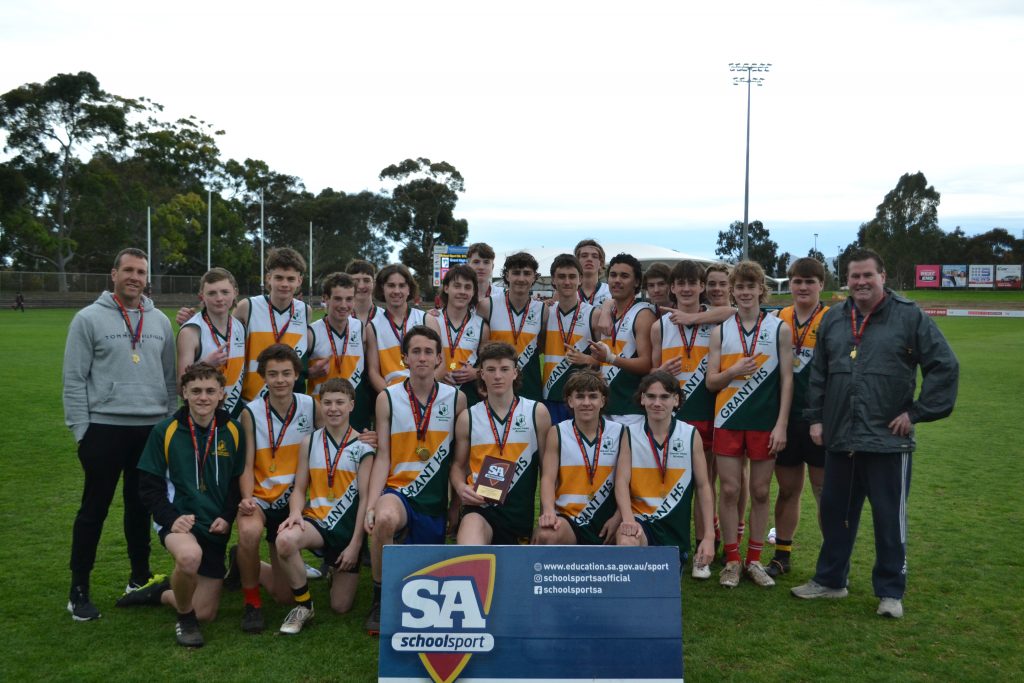 From the first bounce the intentions were made clear to the opposition that the GHS boys were here to play and take home a piece of history.
The first clearance out of the middle was laced out to Connor Gentile which resulted in the team's first major. This trend continued out of the midfield led by the skipper Darcy Arthurson, Max Whitehead and Bay McKinnon. Sam Couldrey must have had a step ladder in his socks as he used it to climb over a massive pack and took a hanger in the goal square to kick another for GHS.
The second quarter was another successful quarter for GHS, kicking another 4 goals to add to the tally. The drive was coming from the bounding Elwood Geary; he took on the opposition giving out a few Dusty Martins and also plucking every overhead mark he contested. Taj Bell was influential in the backline along with Ky McCracken's deadly left foot hitting targets all game. Nash Lobley, Archie New and Kaleb Price were making it hard for the opposition to hit the scoreboard down back.
The enthusiasm was evident in the huddle at half time and the team hit the ground running in the premiership quarter. Iowani Coleman dominated play through Centre Half Forward, kicking a couple and creating contest so that the dangerous Seb Doody could read the ball off the packs and snag a couple for himself. I wouldn't like to be the ground staff of the Thebarton Oval, Noah Gollan and the two Maxwell boys ripped up both wings, clocking up countless disposals and kilometers.
At the final break the message was clear, stick to playing footy and enjoy this. Many positions swaps saw the leaping Lachie Ray come into the ruck and Digby Richards- Fennell reap the benefits on the Half Forward, lacing his teammates with a sharpened left foot. Trae Wilke took in upon himself to raise the level of intent taking a quality contested mark and playing on, sending it long and deep to the silky skills of Cambell McLean. Will Attiwill and Luke Richards backs would have been sore by the end of the game, carrying every position on the ground as the "utilities" and dominating each one.
GHS 16.7.103 def St Marks 3.7.25
A huge thanks must go to our super active runner Brock Dempsey, always getting the messages out to the players and waiting eagerly for the next instruction. Well done to our Team Manager Travis Clarke on ensuring we arrived safe and giving us all a few laughs along the way.
Congratulations to Elwood Geary for earning a Best on Ground Medal and Connor Gentile for runners up, booting 5 goals in a stellar performance.
What a privilege to coach such a talented side. Well done to everyone that was involved in making this Grant High School history.
Matt Kurzman